Important message
Penrith Skatel is now open to the General Public
Learn to Skate sessions have restarted - please note the new time:-
Saturdays 9:45am-10:45am
Book and Pay online at:- https://www.revolutionise.com.au/teamskatel/events/
General Sessions - please note the new times:-
Saturdays 11am- 1pm, 2pm-4:30pm and 7pm-10pm
Sundays 10am-12pm and 1pm-4pm
Book and Pay online at:- https://www.revolutionise.com.au/teamskatel/events/
School Holiday sessions
Mon-Fri public sessions are 10am-12pm and 1pm-3:30pm
as well as our regular weekend times.
Book online to secure your tickets on this link -
About us
Penrith Skatel is an indoor roller rink in Emu Plains NSW catering for both roller and blade skaters.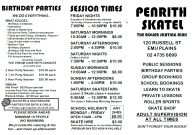 Click above to download our brochure.
Some of the activities you'll find at Penrith Skatel include:-
General Skating

Birthday Parties

Group Bookings

School Bookings

School Holiday sessions

Learn to Skate lessons

Tiny Tots learn to skate

Artistic lessons

Speed Skating

Skate Fit
No food or drink to be brought into premises without prior arrangement.
Please note - EFTPOS now available